SPOLER ALERT! If you haven't read the book or seen the movie, you may not want to read this….
What is it about this book that I love so much? And the movie that solidified that even more? I am not a book blogger, and I don't review movies. I just know that I love everything about The Fault In Our Stars.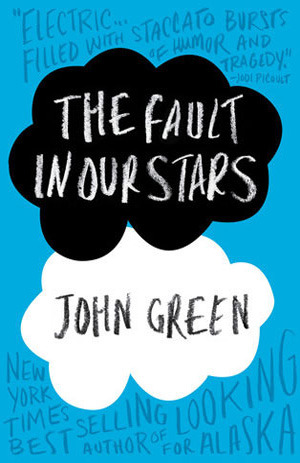 When I read the book, I instantly fell in love with Augustus and Hazel Grace. It is quite possibly one of the saddest books I have ever read, but also one of the most beautiful and I just could not put it down. Even now as I read it again after seeing the movie over the weekend, I am just as drawn to it as I was before.
If you haven't read this book, you are surely living under a rock and you must read it. You must. Even if you don't read YA lit. It's so much more than that. It's not just about these two teenagers who have cancer. It's not about tests and hospitals and treatments. It is about these two people drawn together because of the unfortunate circumstance of having cancer and who find something in each other that others may never find.
Hazel is a 17 year old who has her GED and takes college classes. Her home, parents, and oxygen tank are her world. She is wise beyond her years and knows that she will die. There is no cure for her cancer. She doesn't so much worry about the dying part as she does leaving her parents behind and how they will cope with it.
Augustus is this cool kid who is in remission after beating cancer and losing part of his leg. He just happens to go to a support group with his friend Isaac and meets Hazel. His biggest fear is oblivion – of being forgotten. He wants to matter and be remembered.
If you don't already love Augustus the minute you meet him in the story, you surely will when he asks Hazel her full name and from then on out calls her Hazel Grace. And then to arrange a meeting with her favorite author in Amsterdam, the trip of a lifetime, THE trip of her life, by using his wish because he wants to meet this author that she introduced him to…  Augustus loves and adores Hazel Grace, but Hazel is afraid to get too close because of what it will do to him when she dies. She fears hurting him, and he wants nothing more than to have his heart broken by her. It her strength that I admire – not the fear she has for herself, but those she loves.
I went into this book fully expecting Hazel to die. So when it is Augustus who we have to mourn, it was almost too much. I didn't want either of them to die,.She opened herself up to him and fell him love with him, making all the sadness that much sweeter. Her falling in love with him was a gift, letting him know that he did not have to worry about oblivion because everything there was, was between them.
Augustus and Hazel Graze could very well be my favorite love story ever. And when I saw the movie, I was convinced even more.
If I had to pick one quote from the book that I love the most, which is incredibly hard to do, it would have to be from Hazel…
"I fell in love the way you fall asleep: slowly, and then all at once."
If you read the book – go see the movie. It will be worth it….